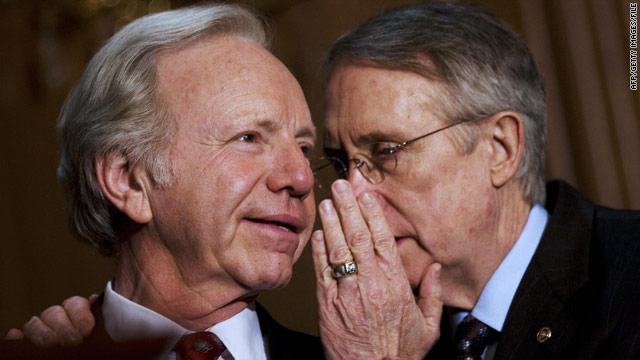 Sen. Joe Lieberman, left, and Sen. Harry Reid confer in 2007.
STORY HIGHLIGHTS
Sen. Joe Lieberman says he opposes two Democratic proposals for health care bill
Lieberman nixes public option, expanding Medicare to people over 55
Senate Dems need 60 votes to close debate and bring health care bill to a vote
Lieberman spokesman says position is no surprise to Democratic leaders
Washington (CNN) -- A few weeks ago, Senate Majority Leader Harry Reid said colleague Joe Lieberman was the least of his problems in passing a health care bill.
Today, Lieberman has emerged as the main obstacle to Reid's efforts to get a health care bill through the Senate before Christmas, if ever.
An independent from Connecticut who sits with the Democratic caucus, Lieberman ratcheted up his public opposition to the bill Sunday. On the CBS program "Face the Nation," Lieberman said he would join a Republican filibuster if the bill contained either a government-run public health insurance option or a proposed alternative to the controversial provision -- expanding Medicare to people as young as 55.
Lieberman also called for eliminating a provision to provide long-term home health care to the disabled while adding more cost containment measures to the $848 billion Democratic bill.
"We don't need to keep adding on to the back of this horse until the horse breaks down and we get nothing done," Lieberman said.
Video: New health care pact doomed?
Video: Public option pullback?
Video: Closing health care loophole
Unanimous Republican opposition so far means Senate Democrats need all 60 votes in their caucus -- which includes Lieberman -- to close debate on the sweeping health care bill. The subsequent vote on final passage of the bill would require a simple majority -- 51 votes -- to succeed.
The Medicare expansion was part of a package of provisions announced by Reid last week as an alternative to the public option, which lacked enough support among Senate Democrats. Negotiated by a team of 10 Democratic senators -- five liberal and five moderate -- the compromise package was hailed by Reid, President Obama and others as an important step forward in the health care debate.
However, many senators have reserved judgment on the compromise proposal until the nonpartisan Congressional Budget Office provides its analysis of how much the plan would cost. The package also would allow private insurers to offer nonprofit health coverage overseen by the government.
Reacting last week to expanding Medicare as part of the proposed compromise, Lieberman said he would "look at it," but added the Senate health care bill already included subsidies to help people 55 and older buy insurance coverage before they become eligible for Medicare at age 65.
"I want to make sure we're not adding a big additional burden to the Medicare program, which we need to figure out how to save, because it's going bankrupt," Lieberman said then.
On Sunday, Lieberman bluntly stated he would join the GOP filibuster if the bill included the provision to expand Medicare. In response, a senior Senate Democratic leadership aide told CNN that the "Democratic leadership was shocked about how strident Lieberman was in his opposition to the Medicare proposal when he went on the Sunday shows."
However, Lieberman spokesman Marshall Wittmann told CNN on Monday that Lieberman first informed Reid last week of his concern about expanding Medicare.
"Sen. Reid knew that problem could lead him to vote against this bill," Wittmann said. "He informed Reid of that Friday."
Wittmann also criticized anonymous assertions that Reid was surprised by Lieberman's stance expressed Sunday.
[Lieberman] wants to get it done. Adding on these additional elements ... is preventing us from passing a bill.
--Lieberman spokesman Marshall Wittmann
RELATED TOPICS
"Sen. Lieberman's position came as no surprise to the Democratic leadership," Wittmann said. "Any contrary charges from those who cowardly seek to hide under the cloak of anonymity are false and self-serving."
Reid spent Sunday trying to round up the 60 votes necessary to close debate on the health care bill, according to the senior Democratic aide, who said Democrats still believe the Senate can produce a bill by Christmas.
Lieberman first expressed possible opposition to the health care bill in late October, saying he would join a GOP filibuster if the measure contained the public option. Asked about Lieberman's position then, Reid said: "Joe Lieberman is the least of Harry Reid's problems."
Wittmann acknowledged Monday that Lieberman, as the vice presidential candidate in 2000, had campaigned then for expanding Medicare.
"This is nine years later, and we have a huge national deficit and a program [Medicare] that analysts indicate is in dire fiscal straits in 2009," Wittmann said. "If anyone believes that the situation has not changed, they also believe that Tiger Woods is not a controversial figure at this moment."
Asked about a possible compromise, Wittmann said Lieberman "believes there is much good in the core legislation."
"He is for health care reform," Wittmann said. "He wants to get it done. Adding on these additional elements in his view is preventing us from passing a bill."
Another potential obstacle for Reid is moderate Democratic Sen.Ben Nelson of Nebraska, who said Sunday said he cannot support the Senate bill without tighter restrictions on federal funding for abortion. The Senate last week defeated an amendment proposed by Nelson and two other senators that would adopt tougher language on abortion funding contained in the House health care bill.
A compromise on the abortion language is possible, said Nelson, one of 10 Senate Democrats who negotiated in private last week on the public option compromise.
Most Democrats support the public option as a nonprofit competitor to private insurers which would expand coverage and bring down prices. Republicans and some moderate Democrats, along with the health insurance industry, oppose the public option, saying it would be a first step toward a government takeover of the entire health care system.
If Democrats can get 59 of their 60 caucus members to support the bill -- for example, by changing the abortion language to secure Nelson's vote -- they can focus on gaining the vote of moderate Republican Sen. Olympia Snowe of Maine, who has signaled an openness to compromise but rejects the public option and questions the Medicare expansion.
If the Senate eventually passes a health care bill, its version will have to be merged by a conference committee with the House version passed last month. The final bill would then need approval from both chambers before going to Obama to be signed into law.
The president and Democratic leaders have said they want the bill completed this year. The Senate would need to finish its work this week to leave a realistic chance of meeting that schedule.